If you'd like to support
Sketch Collectors, we offer
subscriptions or you can simply
donate by following the link
below. Thank You!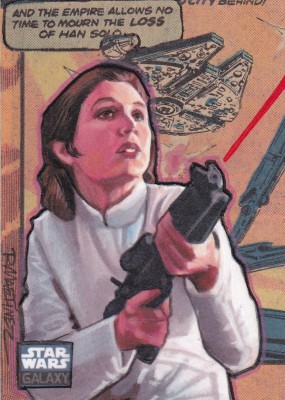 Share This Card:

Image Only:
Image for Forums (bbcode):
Image Thumbnail for Forums (bbcode):
Image Thumbnail with Link
for Forums (bbcode):
(Click link to select all, then copy and paste.)
Card Set:
Star Wars Galaxy 6
Artist:
Randy Martinez
Owner:
F4collector
For Sale/Trade:
No

* Artist Proof/Return *

Description:

One of my all-time favorite cards. Scan doesn't do this card justice. Colors are bright and vivid. By raising Leia 1/8" from the face of the card, Randy Martinez, produce a very unique 3-D effect.

10 out of 10: I highly recommended Randy for sketch card commissions


Views:

12098
Favorites:
2
Member Comments:
No Comments Posted.
To post comments, you must have an account on the site.